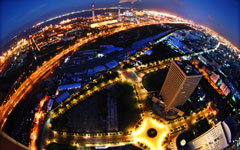 SHANGHAI -China's pilot free trade zone in Shanghai is not merely a place with special regulations, but will pioneer reforms for the rest of China, officials have claimed.
Since the zone was established last September, the corporate community has tried to benefit from the promised international standard business environment, while authorities from other parts of the country who want their own FTZ have looked on both enviously and greedily.
At least 20 local governments have reportedly submitted proposals for similar zones, each claiming some "unique" strength.
This FTZ frenzy goes back to before the Shanghai zone was even inaugurated. Last year, South China's Guangdong province announced an upgrade to one of its "special economic development zones", calling it a "trade zone" and boasting of unrivalled connections with neighboring Hong Kong.
This year has seen other provinces maneuvering to join the party: The coastal city Qingdao in Shandong province wants to leverage its proximity to Japan and South Korea; Xiamen in East China's Fujian province says the same about Taiwan; Chongqing pleads that it will open up in China's wild wide west.
Despite all these proposals clogging the pipeline, authorities have given almost no indication that they intend to approve another, similar zone.
At Tuesday's forum in Shanghai on financial innovation, officials from both the city and the FTZ reiterated the implications of experiments in the zone, saying that they only make sense if best practices in the zone can be applied elsewhere in the country: The success of the FTZ lies creating a system that can be replicated elsewhere.
To ensure that success, Shanghai's deputy mayor Tu Guangshao said on Tuesday that activities in the zone must be aligned with the reform agenda for the entire country. Trials in the zone, Tu added, should be carried out with prudence. A real difference will be made only when breakthroughs in the zone are extended to the rest of the country.