Book-keeping L1


Book-keeping L1 is the access course of LCCI accounting course. The key point of this course is accounting basic theory、business transaction record and preparation of account item, so we will learn below:
1、Accounting equation - firstly you should know assets and liabilities, debit side、credit side and capital. On this basis understand equation: assets= capital + liabilities.
2、Double entry bookkeeping - business marketing activities influence company's financial accounts, include assets and liabilities, expenditure and income.
3、Recording transaction - use T account to better know company transaction's different kinds and influences.
4、Ledger、journal - increase experiences in transaction recording and applied every account aspect.
5、Purchase、selling and return - understand the key business demanding. Learn to use different kinds of cash and credit transaction, and the way of record.
6、Bank reconciliation - must balance bank account based on no company's monthly report, must record discrepancy - not honor check yet、not sign check yet,、not honor check or paid check without credit line.
7、Depreciation of fixed assets - company's equipment has certain using life, so must record it. Asset's depreciation can reflect asset's actual present value.
8、Bad account、doubtful account - some company bankrupt、somebody didn't pay the bill, so must make relevant items and reflect in the account item if the situation happened.
9、Adjustment of payable and advanced payment - account item has relationship with company's transaction. Some transaction like salary should pay off in some day, but it should record one week or one month, this involves payable and advanced payment. So student will learn experience in this aspect, proceed final adjustment to record differences of account.
10、Operation and profit & loss statement - operation statement reflect company's product cost. Discuss inventory and some ways of assessment and keeping account. Then learn profit & loss statement and variable factors which decide company's profit.
11、Settle account、trial balance and balance sheet - accounting will finally produce statement of assets & liabilities and profit & loss. Should know these accounting requirement and practice how to produce these reports.
Accounting is a major which have specific language, there are many things to learn. Book-keeping L1 is only the basic introduction of accounting function, you can compile relatively specialized financial statements after learning this course.
The textbook will mention some contemporary international typical case --This is for personal development but not for examination.
---
Book-keeping and Accounting L2


Book-keeping and Accounting L2 is the second level course of LCCI accounting course. This course based on the knowledge of elementary course (book-keeping L1), will teach us how to record accounting entry , finish accounting items, how to analyze accounting information.
This course will focus on various kinds company's type and how to compile their accounts.
You will further learn:
1、Advance paid project of book-keeping, this will make us review and develop these basic knowledges.
2、Partnership enterprise - understand the reason of making partnership agreement, know the content of partnership agreement. Know the accounting requirement of partnership company, and how to deal with accounting problems when there are partners join and quit, consider the accounting treatment of partnership enterprise dismiss.
3、Limited Liability Company - through learning, we will understand the differences between Limited Liability Company and Limited Liability Company by shares, different kinds of stocks - common stock and preference stock, capital-authorized capital, paid-up capital and credit.
4、Non-profit organization - we should learn how to deal with accounting issues for these organizations. Learn accumulated fund and the practice of income/expense account, making balance sheet and profit & loss statement.
5、Branch account - this part ask us to understand the accounting demand from branch and department, we are not only proceed their account processing, but also control their cash, stock and price. We will discuss the account from foreign branch as well, but this part won't be the exam content.
6、Inventory valuation - learn the meaning of cost and net realizable value, consider the stock loss's physical inventory when suffer loss by theft, fire and flood, and the stock loss's account treatment.
7、Final account - this is a very important accounting demand, so we need further question and practice to enhance relevant techniques.
8、Ratio - accounting activity is the understanding of company's data, then through ratio analysis method to analyze company. This part will make us familiar with some present major ratio: return on asset、profit/sales ratio、sales/assets ratio、quick ratio、liquidity ratios、inventory turnover. We must know also, when we assess a company, we think highly of the future potential profit ability, but not its past performance. So we should pay attention to its data trend, then proceed budget planning.

Suspense account, contra account, public accumulation funds, incomplete records - we will learn relevant knowledge and experience, meanwhile consider the demand of manufacturing industry.
---
Accounting L3


Advanced Accounting is the third level of LCCI accounting series course, this course
Advanced Accounting is the third level of LCCI accounting series course, this course
will combine the accounting knowledge of which we have already learned in the former two levels, make us fully understand accounting, its objective and operation program.

This course has mainly 3 aspect contents:

1、Accounting information sources;
2、Accounting report and data's preparation;
3、using and analyzing accounting report and data.
In the part of "accounting information sources", we will learn transaction record - this part is very important for accountant's function, we must familiar with these contents very well. Therefore, we should review accounting equation, double entry bookkeeping and control account . We must think and record, present the way of accounting data: manual way、machinery way、electronic way.
The second part include:

1) Balance sheet and profit & loss statement - prepared for sole traders、partnership enterprise、company and non-trading organization's accounting report
2) Partnership enterprise - we have told this aspect content, now we must further understand accounting requirement of partnership enterprise - understand the partnership agreement's participants and the agreement itself will probably change. We should be able to state these changes.
3) Company - issuing of stock, issuing and redemption of bond, profit allocation, recapitalization and combination are all the business decisions which we must be able to state - we will understand these business demand.
4) Amalgamative account - business reputation、minority interest、residual income、company internal balance sheet and combination, the above content is the holding company's accountant requirement which we should understand.
5) Investment account, capital gains and branch/joint venture company - fixed income and variation income, interest bearing transaction and ex-dividend transaction, bonus and share option, asset assessment and other branch、joint venture company's accountant requirement which we should fully grasp.
6) Cash flow statement - we must learn to compile cash flow statement, familiar with its accounting subject, understand the usage for company management.
7) Budget - this is the most important accounting tool for accountant. We should know a company's value is its future profit ability but not its past performance. So we must make budget and plan from balance sheet and profit & loss statement: cash、stock、capacity、asset、liability.We will pay attention to the break even analysis also.
8) Accounting ratios - another skill of which accountant should have, we must learn how to analyze and use it: liquidity analysis, working capital, profit ability analysis and finance performance analysis.
The third part include:
Accounting and management decision making - just as above content revealed, accountant could help company's manager to understand company's financial status and future development. We must realize that the provided information can be controlled, could not the reflection of reality, therefore we will use the way of historical comparisons.
Contemporary accounting - this part includes account system and contemporary accounting standard. We will learn the development of international accounting standard, and introduce the situation of accountant.
---
LCCI international financial class certificate sample: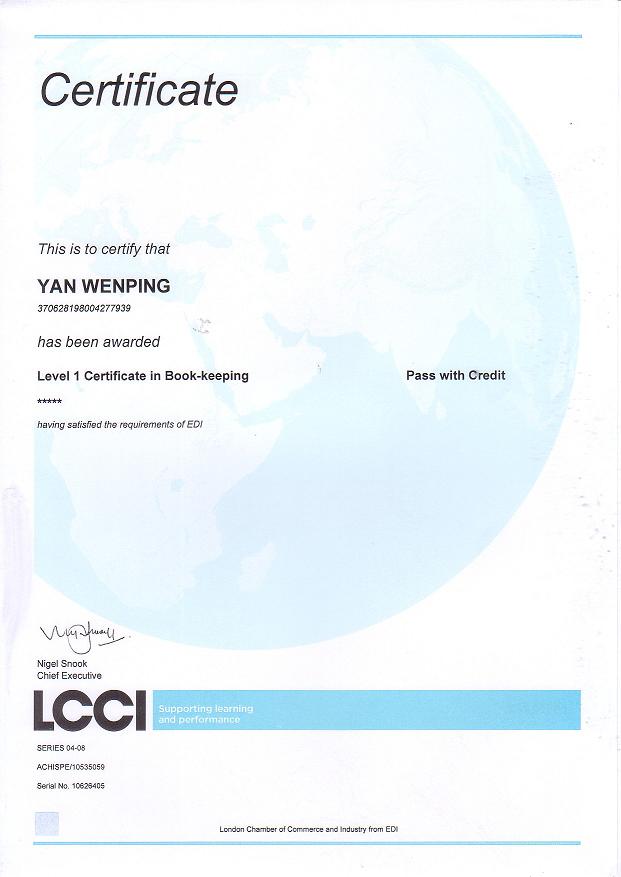 British LCCI book-keeping primary international certificate sample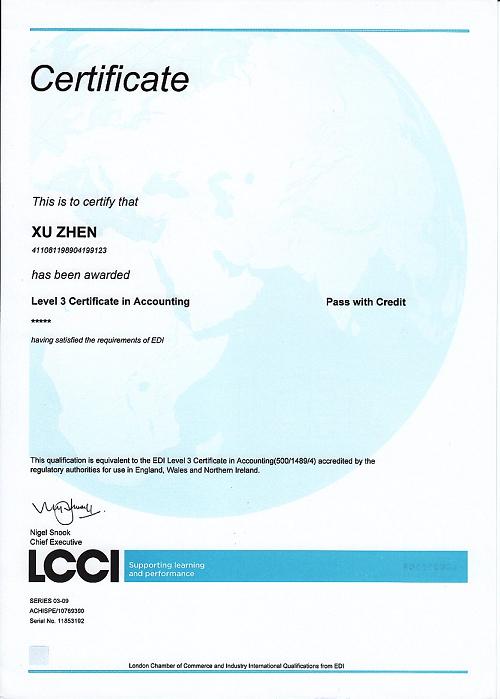 British LCCI accounting senior international certificate sample (07 level XuZhen)